My second workshop at Vogue Knitting Live was "Finishing Tips and Tricks" with Cirilia Rose. In many ways, it echoed the encouraging and positive tone of Janel Laidman's "Creating Your Own Stitch Patterns" session, and amplified the message that I think was my major takeaway from the entire weekend:
You don't have to do it "the right way," as long as the way you do it works.
One of Janel's tips was to have what she called an "ugly swatch" to work out new ideas with. If you need extra stitches, cast 'em on; if you need fewer for the pattern repeat you're toying with, cast 'em off--don't waste time casting on and working a bunch of set-up rows, just keep on knitting! Revolutionary, revelatory...and totally obvious once someone points it out to you.
Likewise, Cirilia shared some of her own secrets, preferred approaches, and insider knowledge from her time on the
Berroco Design
team. I mean, she worked with frickin' Norah Gaughan! That's probably like having a master class every day at work. Seaming, weaving in ends, and joining new yarn (especially using methods that reduce the number of ends you have to weave in) were the big subjects, but we also talked about closures and edgings--you know, the little things that can make or break a finished garment. The best thing I learned? Cirilia loves buttons, and she told us she often doesn't make a decision on closures until a garment is finished--which means no knitted-in buttonholes! Instead, she uses snaps and puts the buttons on as decorative, not functional, features. That makes sense in so many ways. It's way easier to reinforce a big ornamental button on a sweater coat, for example, if it doesn't have to actually BUTTON anything; not only that, but you're not forced to make your sweater close with just the number of buttons you actually have. That's a major consideration for those of us who have weird quantities of antique buttons from lord-knows-where, and no way to get extras. Another idea from VKL that was revolutionary, revelatory...and totally obvious once you think about it.
Cirilia's was probably my favorite workshop of the weekend, since it was the one where I had the most fun and felt the most at ease. Even though I'm pretty extroverted, I'm still subject to occasional and surprising bouts of extreme self-consciousness. I usually have a cocktail or two, if that's socially acceptable and even remotely appropriate in the setting, and just fake it til I make it, but whoof! That social anxiety does a number on me when it does hit. It's another good reason to take some knitting with me wherever I go--I've always got something I could be doing if I don't feel up to talking to people.
Luckily, the opening night reception and marketplace preview did have cocktails. (Actually, they had all the champagne you could drink, alongside an actual buffet of candy and chocolates, and dozens of vendors selling yarn and knitting accessories of every imaginable kind.) After a glass or two, I felt loose enough to start chatting up the folks in the Blackthorn Needles booth--their carbon-fiber DPNs use stealth-jet technology to create a VERY nice knitting experience. I now lust for one of their custom sets--see image above, which doesn't really do them justice. I was also in the mood for love, so I took home practically the first handbag I set eyes on, a
Betty Knitting Tote
from Atenti designs in what I am told is a one-of-a-kind fabric and color combination. But she looks a little something like this: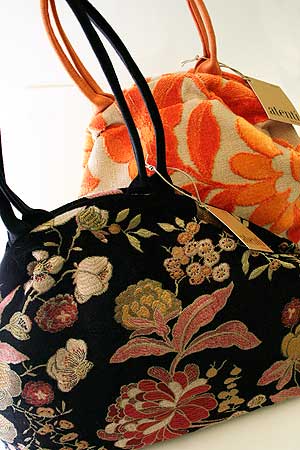 Ain't she sweet? Mine is done in a tomato-red velveteen wallpaper pattern with a taupe ground and lining--a bit like the orange one in back. But nicer, of course.
That was pretty sneaky, VKL--get a bunch of knitters drunk and hopped up on sugar, and then put purses and yarn in front of us. We didn't stand a chance! I am proud to say, however, that I stayed strong and did NOT buy any yarn. One day at a time.