Last week was a busy one. On the 18th, Knit Picks launched a new yarn line called
Lindy Chain
, and along with it, a new design of mine that's just the thing for summer knitting: the Beryl sleeveless top!
Click on the image for pattern and yarn purchase info!
Lindy Chain is a fingering-weight linen and pima cotton blend, which made it a new fiber experience for me--I've never worked with linen or linen-blend yarns before, although I've had a big hank of laceweight linen in a very exciting grassy-lime green shade in my stash since a yarn swap a few years back. I've always been a little hesitant to use that hank, honestly, since I've heard linen can be really hard on your hands and wrists, and stiff and scratchy and prone to tangling and generally unpleasant to be around until after it's blocked. I have friends who swear by linen-cotton blends for things like washcloths and dishcloths, since it responds really well to hard use, getting softer and softer, but I've never actually made a dishcloth, so...me and linen have so far failed to mix.
The thing that made me eager to try Lindy Chain, though, was that it's a chainette construction; that is, instead of having two or more finer strands twisted together (or plied, to use the technical term), the yarn consists of thread-fine strands that are knitted together, like a very, very fine i-cord. You can actually see the little V's of the chain in this close-up image of the rich golden Honey colorway: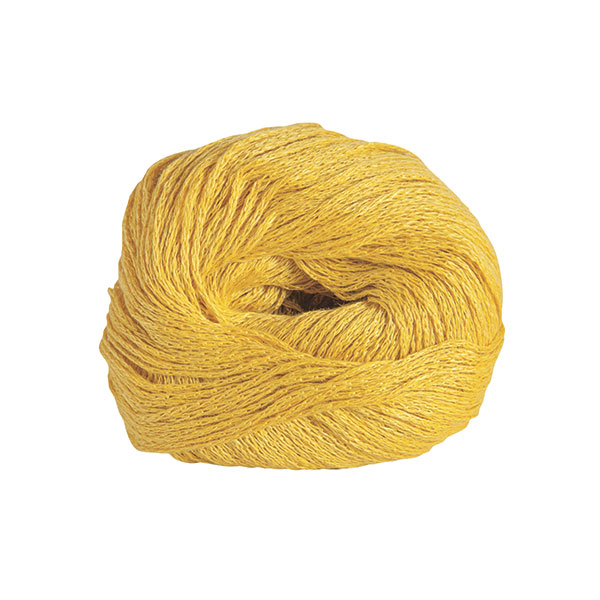 Nifty, huh? There aren't a lot of chainette yarns out there, and most of the ones that you can get are novelty yarns (another category I've used very seldom so far in my knitting life). However, one of my all-time favorite yarns, Rowan Calmer, is a chainette, and I've always loved its special qualities--stretchy but not droopy, with great stitch definition, and really forgiving on the needles. It also made perfect sense to me that if anything could tame the linen beast, it would be a chain.
So now I've tried Lindy, and I definitely see why people LOVE linen. The finished fabric was a little rough before washing and blocking (my contact at Knit Picks used the word "rustic," which I think is perfect), but I noticed it softening even as I worked with it--the bottom of the garment already had a more hospitable hand than the top by the time I had about 7 or 8 inches worked, so just the action of moving the fabric around as I knitted was clearly limbering it up. The next time I work with it, I'll probably try bamboo needles or something with a blunter tip. Usually I'm all about laser-sharp needle points when I knit; like many knitters, though, I found the linen fibers to be a bit splitty, which a rounder needle tip will mitigate. But man, talk about cool and drapey! The finished fabric was soft enough to wear next to the skin, and I've NEVER been so comfy wearing a handknit garment in the summertime. I can easily see remaking a lot of my sock-yarn designs in Lindy Chain for spring/summer/early fall wear here in California. The Cecily Twinset, for instance, would look great in any of the 20 nature-inspired colors this yarn comes in. I'm partial to Bluebell, but Conch and Celery and Linen are all pretty, too...